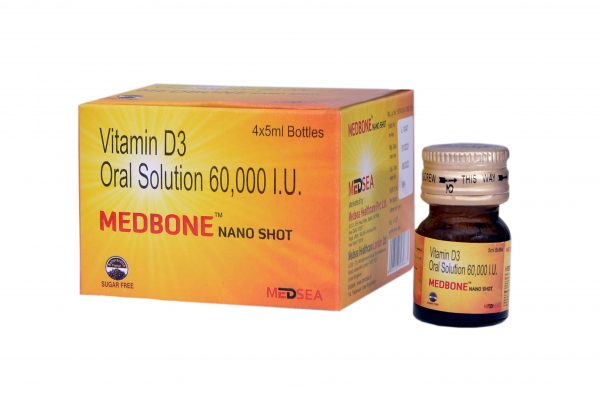 Medbone Nano Shot
Composition
Vitamin D3 Oral Solution 60,000I.U.
Packing:
Available in bottle of 5ml
Product Description
Description
Vitamin D3 is fat-soluble vitamin that plays an important role in calcium absorption and bone health, as well as immune function. Vitamin D has various important functions regulates insulin level, improves brain function, reduces cancer risk, reduces rheumatoid arthritis ,combats depression ,protects against diabetes, decreases cardiovascular diseases…etc
Indication:
• Bone Health
• Cancer
• Cardiovascular Disease
• Weak Immunity
• Infectious Disease
• Asthma
• Inflammatory Bowel Disease
• Diabetes
• Depression
• Dementia or Cognition
• Pregnancy
• Weight Loss
• Rheumatoid Arthritis
Direction for Use
Please consult your doctor.