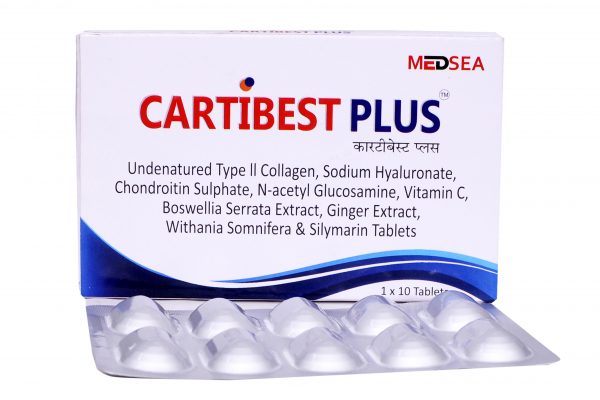 CARTIBEST PLUS
Composition
UndenaturedCollagen Type-II, Sodium Hyaluronate, Chondroitin Sulphate ,N-Acetyl Glucosamine, Boswellia Serrata Extract , Curcuma Longa Extract, Ginger Extract ,Vitamin C ,Withania Somnifera Extract and Extract of Silymarin .
Packing:
Available in strip of 10 Tablet
Product Description
Description
Cartibest plusis a novel therapy for arthritis patients that rejuvenates joint health and improves flexibility with mobility.N-acetyl glucosaminestimulates cartilage regeneration synergistically with collagen peptides& chondroitin sulphate. Sodium Hyaluronate improves synovial fluid consistency and volume, increasing cushioning action.Silymarin extracts in negates NSAIDs induced gastric ulcers and other side effects.Root extracts of withania somnifera (Ashwagandha) are known to possess analgesic, anti-inflammatory and chondroprotective effects.Cartibest Plus helps to rebuild cartilage and improve joint stiffness.Cartibest Plus is the best choice for long term use in chronic disease arthritis.
Indication:
Osteoarthritis, Rheumatoid arthritis, Spondylitis, Tear & Wear of Cartilage
Direction for Use
Please consult your doctor.