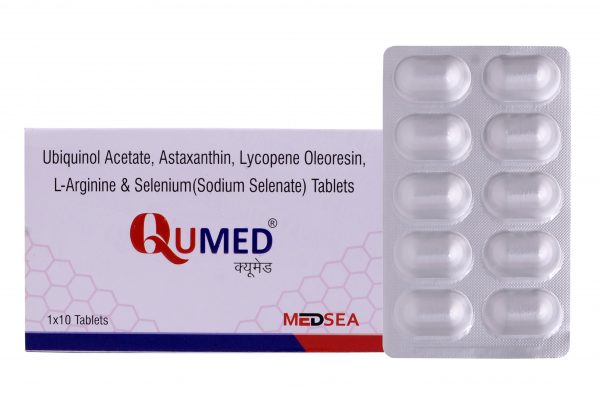 QUMED
Composition
Ubiquinol acetate, L-arginine,Astaxanthin, Lycopene Oleoresin and Selenium
Packing:
Available in strip of 10 Tablet
Product Description
Description
Ubiquinol a reduced form of coenzyme Q10 .Ubiquinol has been increasingly reported to exert antioxidant functions, in addition to its role in the cell energy-producing system of mitochondria and adenosine triphosphate (ATP) production.Ubiquinol is an essential cofactor of the electron transport chain which plays a vital role to supply energy for chemical reactions in the body.
Astaxanthin is a carotenoid, a chemical found naturally in certain plants and animals. Astaxanthin showed potential effects on various diseases including cancer, hypertension, diabetes, cardiovascular, gastrointestinal, liver, neurodegenerative, and skin diseases. Its antioxidant properties are used against oxidative damage in diseased cells.Lycopene is a powerful antioxidant that may help protect cells from damage. Lycopene exist in nature mostly in translycopene (~95%); however, cis-lycopene isomers (Oleoresin from Tomato) provide potentially better health benefits than the trans-lycopene isomeric form due to their higher bioavailability. L-arginine is an amino acid that helps the body to build protein. In the body, the amino acid arginine changes into nitric oxide (NO). Nitric oxide is a powerful neurotransmitter that helps blood vessels relax and also improves circulation.
Selenium is an essential trace mineral that is important for many bodily processes, including cognitive function, a healthy immune system, and fertility in both men and women.It contributes to thyroid hormone metabolism and DNA synthesis, and protection from oxidative damage and infection.
Indication:
Infertility, Immunity Booster, Cardiovascular Disorders, Neurological Diseases, Statin-Induced Myopathy, Osteopenia & Cancer
Direction for Use
Please consult your doctor