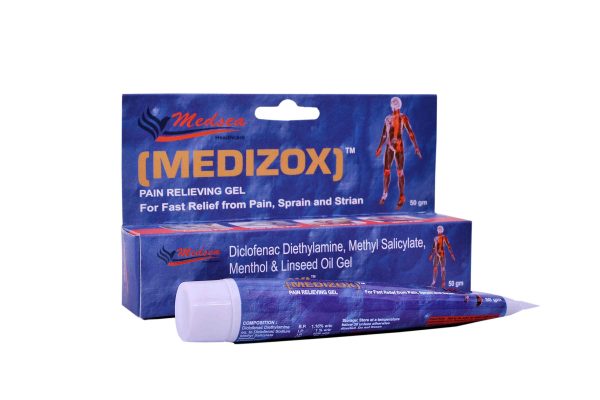 Medizox Pain Relieving Gel
Composition
Diclofenac Diethylamine, Methyl Salicylate, Menthol & Linseed oil
Packing:
Available in 50gm Pack Tube
Product Description
Description
Medizox Gel is a pain relieving gel which provides fast relief from muscle pain, strains, sprains, spasms and cramps. Medizox Gel Scientifically formulated with ingredients such as diclofenac diethylamine, methyl salicylate, menthol and linseed oil, it provides effective relief from backache, knee pain and shoulder pain. It gets absorbed easily and provides long-lasting relief from the pain. Medizox pain relieving gel not only arrests pain but also speeds up recovery so that you can move freely and get back to your active routine.
Indication
• Muscle Pain, Neck and Backache
• Swelling and Pain in Musculoskeletal
• Sprain, Myositis, Fibrositis and Sciatica
• Sport Injuries
Direction for Use
Please consult your doctor.