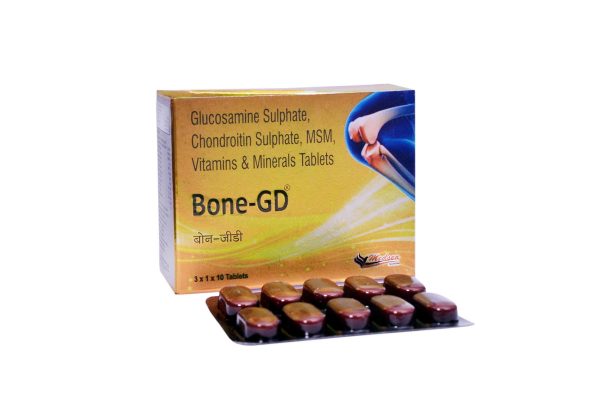 Bone GD
Composition
N- Acetylglucosamine, Chondroitin Sulphate, Methylsulfonylmethane, Vitamin D3, Chromium Picolinate & Minerals
Packing:
Available in strip of 10 Tablet
Product Description
Description
Bone GD is the most trusted solution for osteoarthritis which reduces joint pain & improves quality of life. Bone GD rejuvenate joint health. Chondroitin sulfate is a natural substance used for the treatment of osteoarthritic conditions. It is an essential component of cartilage and plays an important role in the elasticity and function of articular cartilage where it is mainly attached covalently to core proteins in the form of proteoglycans.N- Acetylglucosamine is found naturally in your body. It plays an important role in making glycosaminoglycans and glycoproteins, which are essential building blocks of many parts of your joints, including ligaments, tendons, cartilage and synovial fluid.
Indication:
Arthritis, Osteoarthritis, Tear & Wear of Cartilage
Direction for Use
Please consult your doctor.