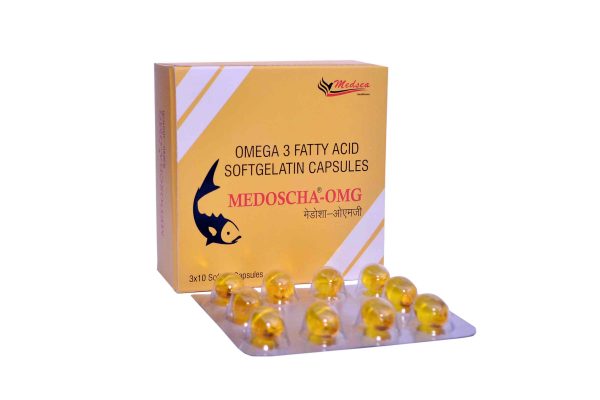 MEDOSCHA OMG

Composition

Omega-3 Fatty Acid (EPA 180mg + DHA 120mg) Capsule

Packing:

Available in strip of 10 Softgel Capsule
Product Description
Description
Medoscha OMGis enriched with essential fatty acids DHA (Docosahexaenoic acid) and EPA (Eicosapentaenoic acid). It is derived from salmon fish containing essential omega-3 fatty acids which support healthy functioning of heart and brain. Omega-3 fatty acid reduces joint pain and increased grip strength. Omega-3 Fatty Acid improves bone strength by boosting the amount of calcium in your bones and reduced risk of osteoporosis. Omega-3s reduced risk of autoimmune diseases. Omega-3s helps to prevent and treat depression and anxiety.
Indication:
Arthritis, Obesity, Inflammatory Diseases, Rheumatoid Arthritis, Anxiety and Depression
Direction for Use
Please consult your doctor.