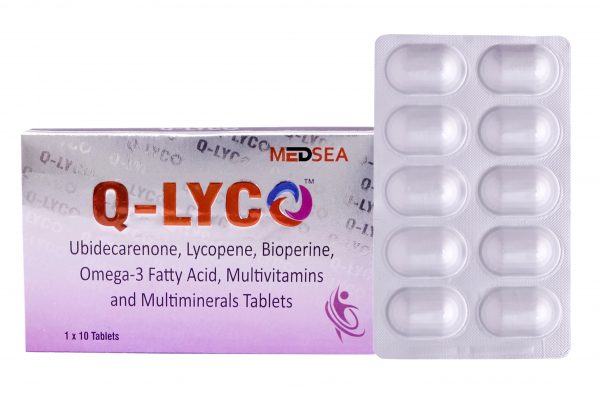 Q-LYCO
Composition
Ubidecarinone, Lycopene, Omega-3 Fatty Acid, EPA & DHA, Selenium Dioxide Monohydrate, Mixed Carotenoid, Boperine, Calcium Ascorbate, Zinc Sulphate Monohydrate, Vitamin B12 & Bioperine
Packing:
Available in strip of 10 Tablet
Product Description
Description
Q-LYCOis the most trusted brand which contains reduced coenzyme Q10, Lycopene, Omega-3 Fatty Acid, Amino Acids,Bioperine, Vitamins & Minerals. Q-LYCO prevents & reduces the progression of chronic diseases.
Indication:
Unexplained Infertility, Cardiac Disorders, Statin Induced Myalgia, Neurological Diseases, Weak Immunity, Skin Ailments, Convalescence, Chronic Fatigue Syndrome, Bone Health & Age Dependent Depletion of coenzyme Q10
Direction for Use
Please consult your doctor.