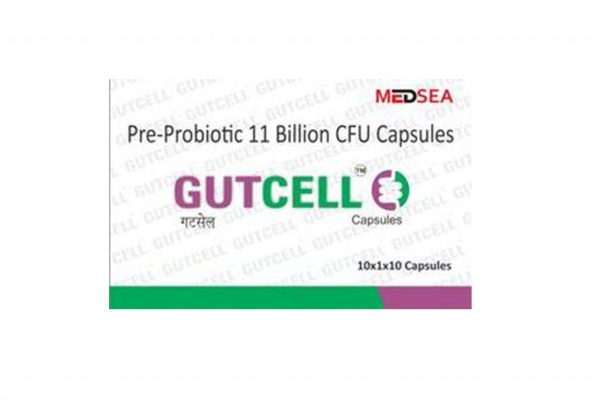 GUTCELL
Composition
Bacillus coagulans 1 Billion CFU , Bifidobacterium bifidum 2 Billion CFU , Bifidobacterium longum 1 Billion CFU , Fructooligosaccharides (FOS) 100 MG ,Lactobacillus acidophilus 2 Billion CFU , Lactobacillus casei 1 Billion CFU , Lactobacillus plantarum 1 Billion CFU , Lactobacillus rhamnosus 1 Billion CFU, Saccharomyces boulardii 1 Billion CFU , Streptococcus thermophilus 1 Billion CFU
Packing:
Available in strip of 10 Hard Gelatin Capsules
Product Description
Description
GUTCELL contains pre-probiotic. Products are live microorganisms that are intended to have health benefits when consumed. Probiotic bacteria plays important role in maintaining gut microbiota homeostasis, strengthening of gut barrier function & host immune responses. Probiotic can combat gastrointestinal side effects of the medications.
Indication:
Irritable Bowel Syndrome,Diarrhea, Dysentery, Drug-induced Diarrhea, Infectious Diseases, Respiratory Tract Infection
Direction for Use
Please consult your doctor.