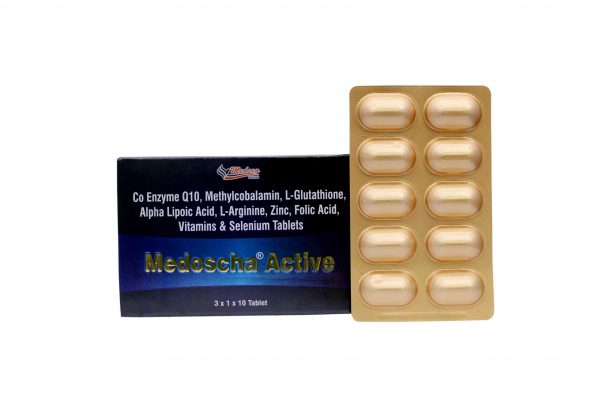 MEDOSCHA ACTIVE
Composition
L-Glutathione, Coenzyme Q10, Methylcobalamin, Alpha Lipoic Acid, Vit.D3, L-Arginine, Folic Acid, Vit.B6, and Zinc & Selenium.
Packing:
Available in strip of 10 Tablet
Product Description
Description
Medoscha Activeis a potent combination of L-Glutathione, Coenzyme Q10, Methylcobalamin,Alpha Lipoic Acid with Multivitamins & Minerals which are vital for healthy life.Glutathione is a potent antioxidant found in both plants and animals. Often called the "master antioxidant," glutathione also boosts (recycles) other antioxidants, like vitamin C and vitamin E, as well as alpha lipoic acid and CoQ10.
Indication:
• Convalescence
• General Debility
• Oxidative Stress
• Diabetic Complication
• Cancer
• Cardiovascular Diseases
• Neurodegenerative Disorders
• Neuropathic Pain
• Depression
• Alzheimer Disease
• Parkinson's Disease
• Hyperpigmentation
• Acne & Wrinkles
• Infertility
• Idiopathic Infertility
Direction for Use
Please consult your doctor.