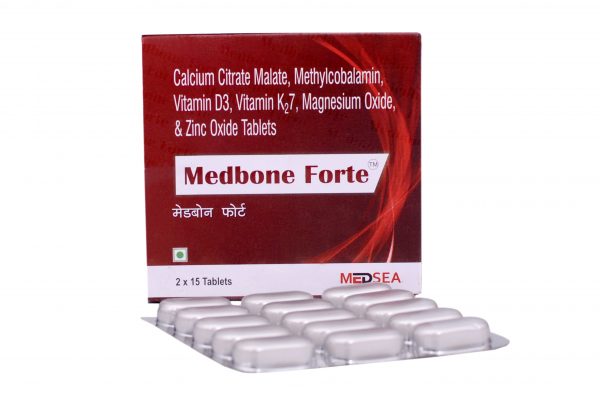 Medbone Forte
Composition
Calcium Citrate Malate, Methylcobalamin, Folic Acid, Pyridoxine, Calcitriol, Menaquinone-7 (Vit.K2-7), Magnesium & Zinc.
Packing:
Available in strip of 10 Tablet
Product Description
Description
Medbone Forte is ideal brand of calcium citrate malate, menaquinone-7 (Vit.K2-7), methylcobalamin, folic acid, pyridoxine, calcitriol, magnesium & zinc that regulate hyperhomocysteinemia, reduces the risk of hypercalcemia & increases calcium deposition to bones. Medbone Forte is knownfor balanced calcium supplementation for healthy & strong bones.Vitamin K2 activates the calcium-binding action of two proteins -matrix GLA protein and osteocalcin, which help to build and maintain bones.
Indication:
• Hyperhomocysteinemia
• Osteopenia
• Osteoporosis
• Post-menopausal osteoporosis
• Drug-induced osteoporosis
• Spondylitis
• Bone fractures
• Hyperthyroidism induce bone loss
Direction for Use
Please consult your doctor.