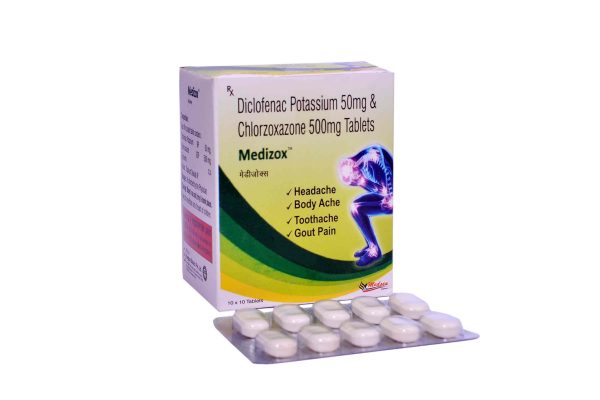 Medizox Tablet
Composition
Diclofenac Potassium with Chlorzoxazone
Packing:
Available in strip of 10 tablets
Product Description
Description
Medizox is combination of a muscle relaxant (Chlorzoxazone) and pain relieving medicine (Diclofenac potassium). The muscle relaxant works on the centers in the brain and spinal cord to relieve muscle stiffness or spasm, thereby improving movement of muscles. Diclofenac is a non-steroidal anti-inflammatory drug (NSAID) which inhibits cyclooxygenase COX-1 and COX-2 which is the enzyme responsible for producing prostaglandins (PGs) that causes inflammation and pain signaling.
Indication:
• Muscle Spasms
• Spondylitis
• Skeletal Muscles Spasm
• Low Back Pain
• Muscle Stiffness
• Tendinitis
Direction for Use
Please consult your doctor.