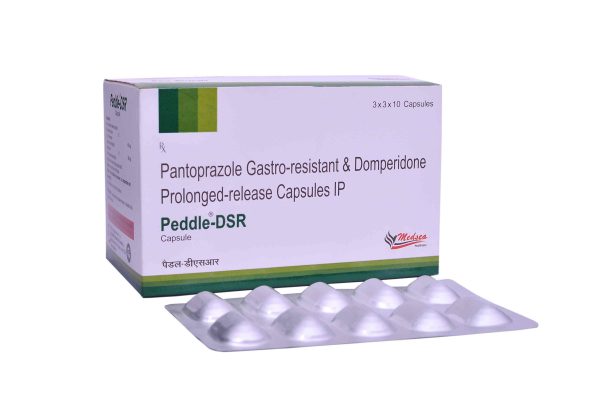 PEDDLE-DSR
Composition
Pantoprazole Gastro-resistant and Domperidone Prolonged-releases
Packing:
Available in strip of 10 Capsule
Product Description
Description
Peddle DSR is combination of pantoprazole and domperidone. Domperidone is a prokineticwhich enhance the peristaltic movement (contractions) of the esophageal body, increase the muscle tone of the lower esophageal sphincter, and stimulate gastric motor activity.Pantoprazole is a proton pump inhibitor (PPI) which works by reducing the amount of acid in the stomach which helps in the relief of acid-related indigestion and heartburn.
Indication:
GERD, Dyspepsia, Peptic Ulcer Disease, Hyperacidity, Drug-induced Gastritis
Direction for Use
Please consult your doctor.